Happiness
from beauty
AMARA ALEXANDRIA
Sydney's cluttered property market continues to present challenges for developers. We immersed ourselves in a strategic and naming phase that pre-empted a ground-breaking property campaign for Amara Living's, Amara Alexandria. The core brand idea – 'happiness from beauty' – drove all brand and marketing communications and set this development apart by tapping into our love of curated, creative lifestyles.

Creating communities is central to any property marketing project. We tapped into the developer's vision and strategically uncovered the brand's essence using our analytical framework to arrive at the key insight – 'happiness from beauty.' The brand name itself, Amara, is a woman's name meaning 'beloved', fitting perfectly into the brand's philosophy which acknowledges that beauty resides in the detail, holistic happiness and the idea of a life well-lived.
ILLUSTRATION THE ANTIDOTE TO PROPERTY FORMULA
We commissioned Dutch illustrator Bodil Jane to create a series of three lifestyle images and single representations designed around the 'happiness' theme. These standout, bespoke illustrations reflect the brand's essence uniquely, inject personality and effectively communicate the notion of curated lifestyles embraced by Sydney's inner city creative precincts. Bodil's work is used across all brand executions.
FULL-BODIED PROPERTY CAMPAIGN POWERFULLY CONSISTENT
In addition to the masterbrand, followed by design and development of the Amara Alexandria brand identity and naming, Frost* created an editorial style property brochure and print campaigns. Nest (part of Frost*collective) was responsible for developing the website, creating digital ad campaigns and content for social media including video, while Urbanite designed and built the sales suite.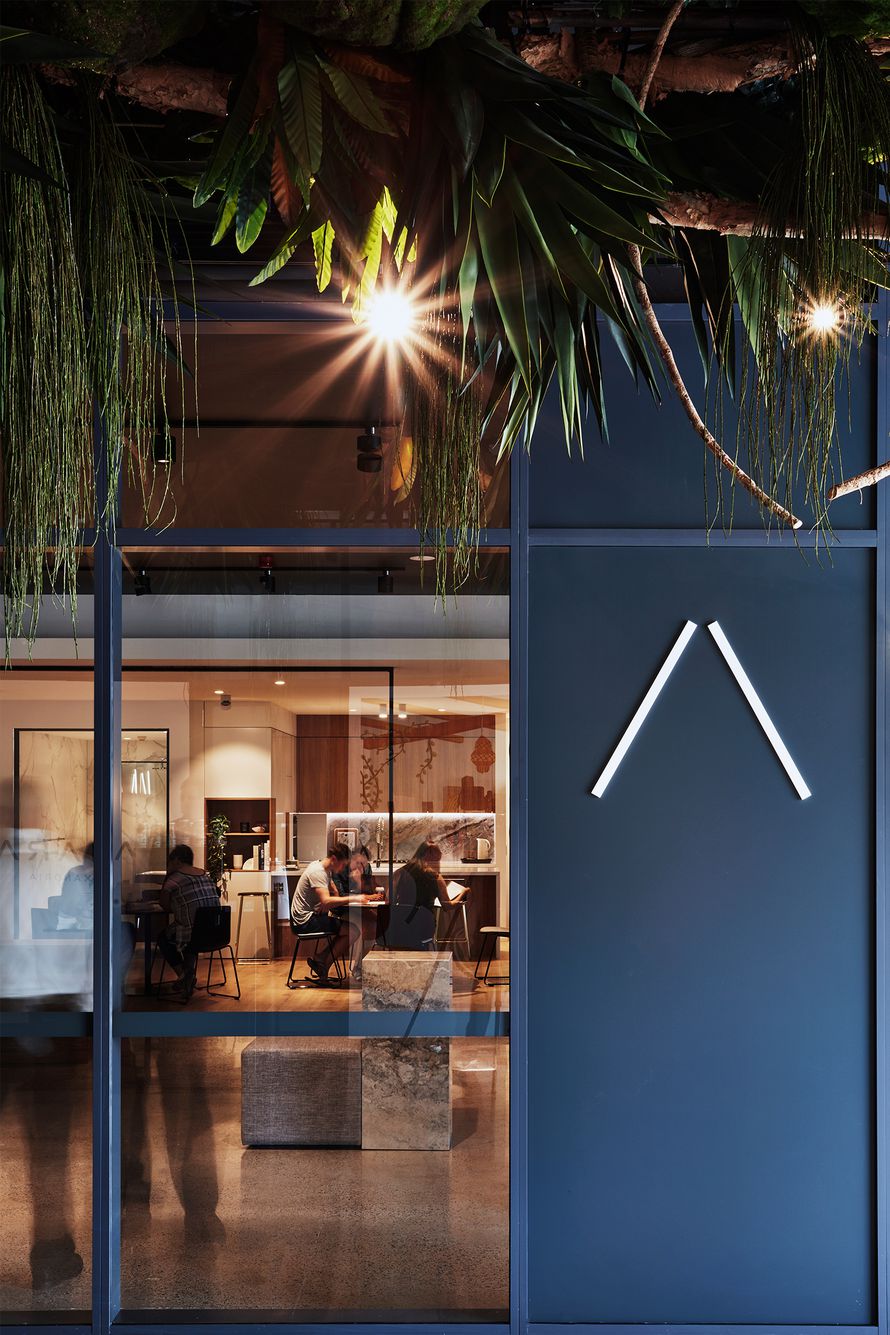 DISPLAY SUITE JOURNEY TAKES BUYERS ON PATH TO DISCOVERY
For maximum street presence, Urbanite and Fox Johnston worked collaboratively to design a lighting installation developed from the Amara logo. The effect creates an eccentric impression and evokes curiosity to visitors and by-passers.

The display suite space is divided into a lounge, an area to showcase the details of the build and an exhibition area which displays floor plans, finishes and models. Finishes used in the build have been materialised into large rectangular plinths displayed as sculptural pieces. We also engaged a botanical artist to develop a suspended greenery in the entrance to highlight the property's lush landscape and rooftop garden.