FIND YOUR WAY
University of Technology Sydney
An increasingly fragmented and growing campus prompted University of Technology, Sydney (UTS) to address how navigation across its expansive city site could be improved. This followed its $1billion redevelopment with landmark buildings by Gehry Partners and Denton Corker Marshall. The way-finding and signage system, with digital integration by Brand Culture, has proven successful in assisting students, staff and the public to locate and find destinations with ease.
STRETCHING ACROSS 15 CITY PROPERTIES AND 4 NEW LANDMARK BUILDINGS, UTS WANTED TO GROW ITS PERCEPTION AS A WORLD LEADING INSTITUTION.
Following the move of Kuringai campus to the city and the institution's increased student intake, UTS invested in a major $1 billion redevelopment. We helped the client understand the consumer's physical and emotional experience of navigating a vast and complex space, reinforcing the importance of user experience as a key strategic consideration.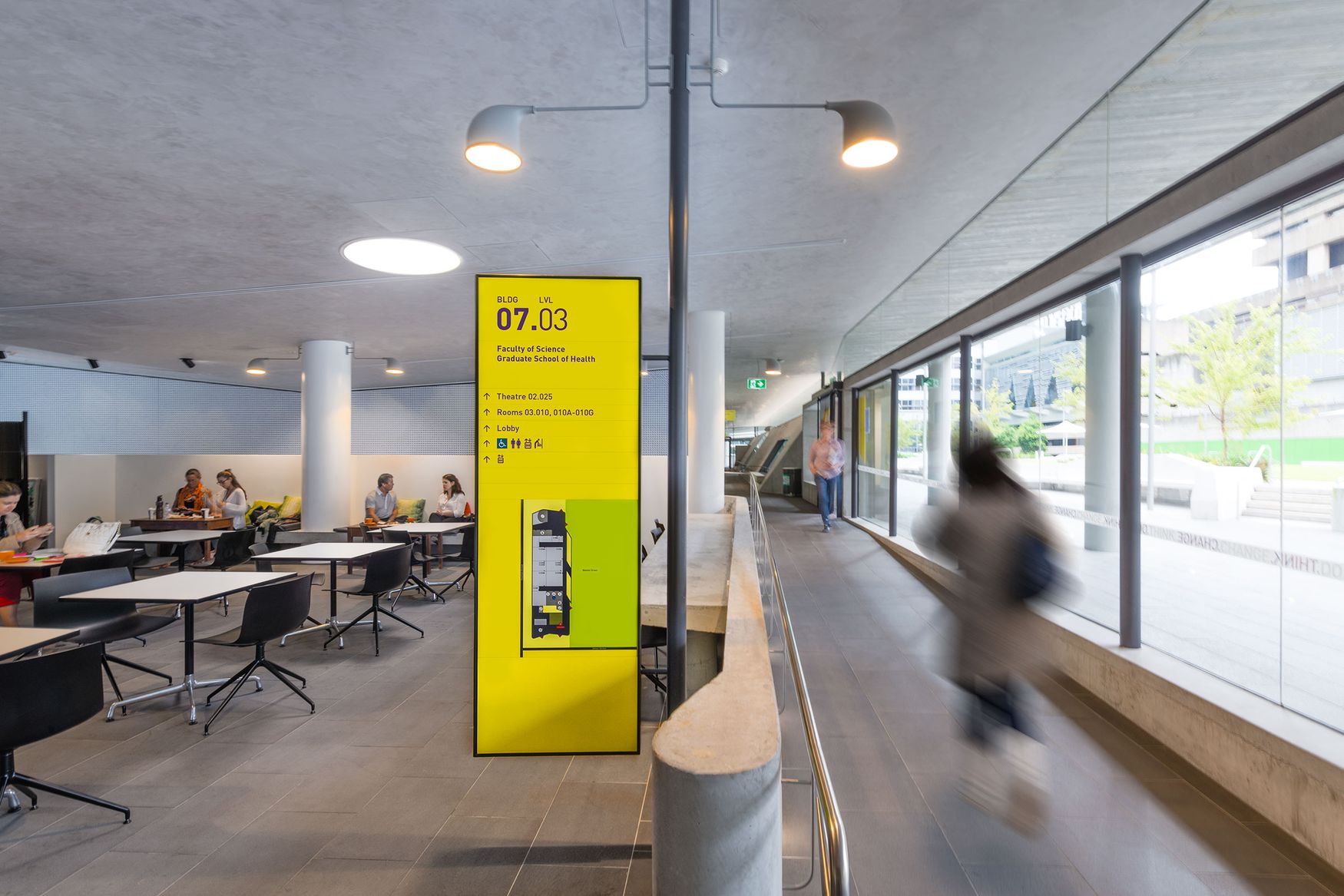 A COMPREHENSIVE WAY-FINDING STRATEGY AND SIGNAGE SYSTEM WAS NEEDED THAT WOULD COHESIVELY INTEGRATE THE EXISTING UTS BUILDINGS AND THE SURROUNDING CITYSCAPE.
We uncovered key insights through in-depth research, experience mapping and a series of stakeholder workshops. The findings formed the basis of a new way-finding strategy that aimed to integrate the entire campus and the surrounding cityscape
DESIGNED AROUND THE CONCEPT OF VERTICALITY AND SUSTAINABILITY, WE DELIVERED 8000 SIGNS ACROSS 65 SIGN TYPES, 19 BUILDINGS AND 100 FLOORS.
Public space branding, a building and room identification system, navigation signage, statutory signage, regulatory signs, information displays and a 400+ page way-finding signage manual were just part of the new system to greatly improve the student experience. The digital integration of the system was developed by Brand Culture whose live way-finding platform allows users to find destinations no matter where they are on campus either online or by smart phone.