Escape & refresh
jamaica blue
The shopping centre hospitality market is rapidly evolving. Flooded with independent cafés, coffee shops and highly-branded quick-service restaurants, people are demanding better quality experiences. Here, even legacy businesses need to reconnect with existing customers and attract new ones with a more relevant offer.

Jamaica Blue, one of Australia's original coffee franchises launched in 1992, needed to sharpen its brand experience to stay competitive in this fluid retail landscape.

We needed to redefine the original brand, designing a seamless hospitality experience from top-to-bottom that aligns Jamaica Blue's business objectives and what drives its existing and potential customers.

Working closely with Jamaica Blue, we developed the customer experience and brand strategy in parallel. Through this work, Jamaica Blue was able to rediscover what franchisees, employees and customers loved about the brand and its offer.
What is their Daily Grind?
The first step was to connect with customers, non-customers, franchisees and employees across regions and store types through a mix of interviews, in-store observations and focus groups.

Key learnings from this period revealed that existing customers love the Jamaica Blue experience; non-customers consider it dated and of average quality. The stores are comfortable, but just not visible enough in busy shopping centres. Finally, few people understand the brand's connection to Jamaica or its range of food and coffee, but when they find out, they want to know more.
Finely Brewed
To optimise the brand experience, we worked collaboratively with Jamaica Blue's brand team to define a customer experience framework with a roadmap of recommendations, actions and measures to surprise and delight.

"Escape & Refresh" is the brand's defining principle. It's an open invitation to get away from everything, to refresh and feel refreshed. This idea, supported by the contemporary Jamaican brand personality, is the consistent thread through everything Jamaica Blue says and does, from look and feel, to food, drinks, service and environments.

Underpinning the new quirky, bold and vibrant identity is an energised brand evolution strategy to inform both current and new customers of Jamaica Blue's promise that it is the place to 'Escape and Refresh'. The Jamaican-inspired theme permeates the brand and marketing, from the typeface and colour palette to future store fit-outs, food and drink offers and even music with a Caribbean twist. The strategy aims to deliver a passionate and proud story through every aspect of the business and service model.

A contemporary revision of the logo adopts the distinctive triangles from the island's national flag, as well as representing the roots of the brand – Jamaica's Blue Mountains. This is reinterpreted throughout the creative, along with friendly and quirky typefaces to communicate offers and campaigns.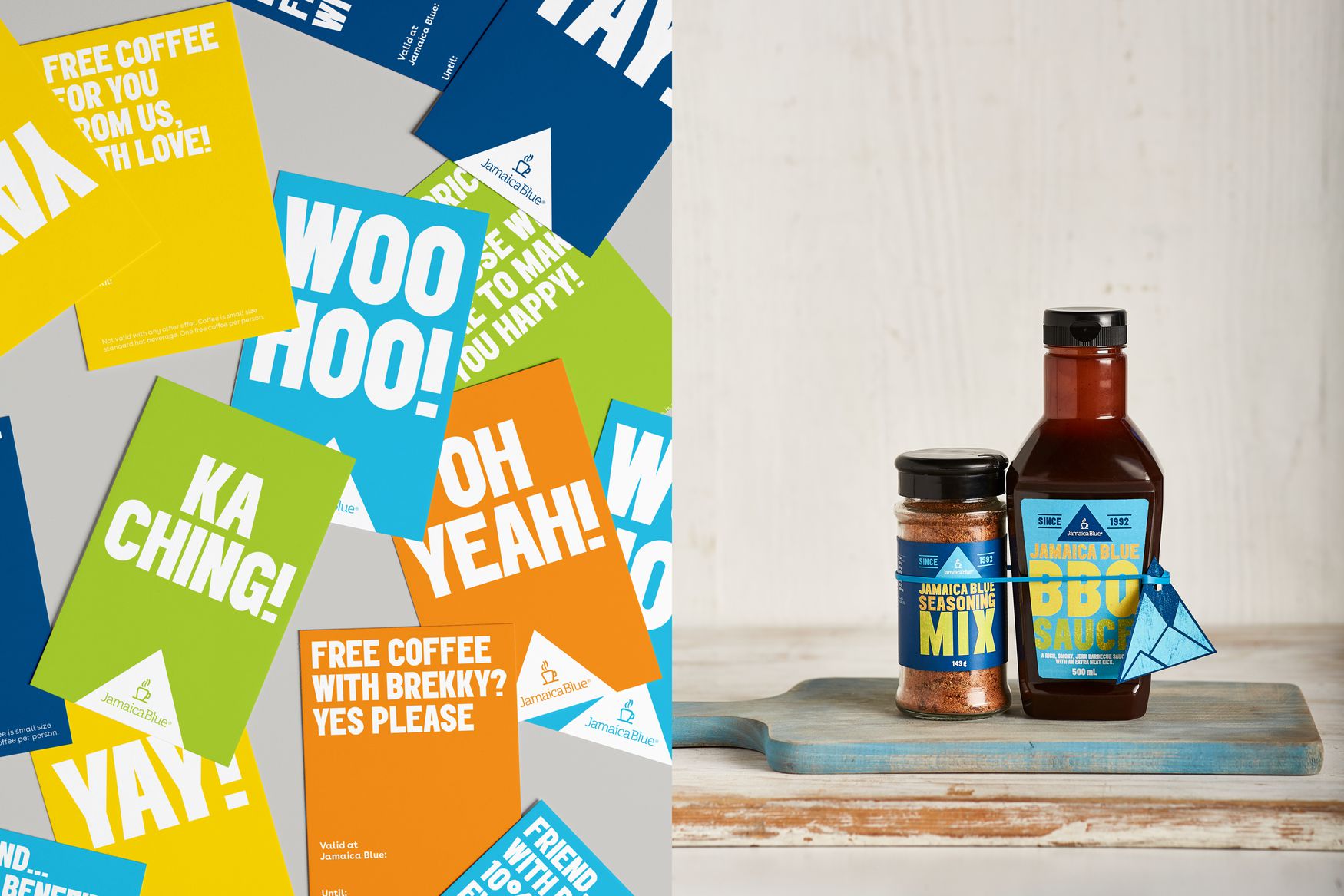 DELIVERING FRESHNESS
Responding to our insights from the discovery phase, we developed a new brand experience from which Jamaica Blue could better compete.

Like stepping into an oasis, the updated stores are inviting, immersive and refresh the senses, serving Jamaican and Caribbean inspired dishes, and sweet and savoury café classics with a Jamaican twist. Coffee is expertly made, food is freshly prepared, and you can add your own personalised touch of extra Jamaican flavour. Quirky decor inspired by Jamaica's abundant natural provenance and unique cultural traditions, relaxed music and comfy seats brighten your day, while great service and little random acts of happiness bring you back again and again.
"Over time we have strayed somewhat from that important connection, so we have taken a path back to our roots and rediscovered what we love about that amazing place and our offer. The result is a really exciting design and experience led overhaul for our customers and early results from the initial roll-out are exceptionally encouraging."
Drew Eide
General Manager
Jamaica Blue