DROP YOUR LOAD
ACON
Having had successful and impactful campaigns around safe sex practices and testing more, we continued the momentum of behavioural change with a campaign around early treatment. ACON's challenge was to communicate to HIV-negative men, the health benefits of an 'undetectable viral load' (UVL) in HIV-positive men, as a means to protect themselves from acquiring HIV. That is, the campaign became one of prevention for the broader male gay community.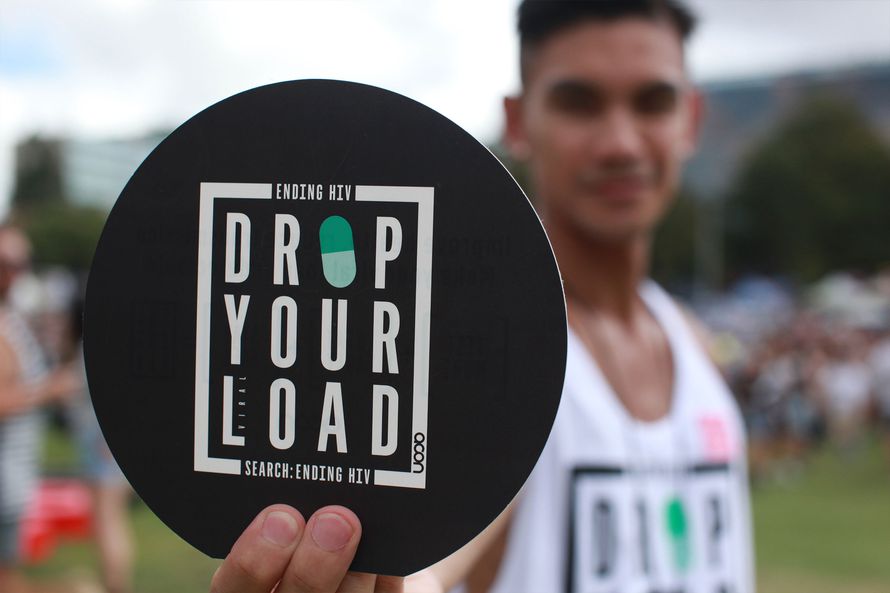 COMMUNICATING THE SCIENCE BEHIND ONE OF THE WORLD'S MOST SERIOUS HEALTH EPIDEMICS WAS NO EASY TASK.
Previous work about treatment had always focused on the health benefits for HIV-positive individuals. Through our human-centred research, we identified the opportunity was to address the knowledge-gap of HIV treatment, particularly amongst HIV-negative gay men, and shift focus from the health benefits to the preventative benefits of treatment. This meant making the idea of prevention through early treatment relevant to both HIV positive and HIV negative people, alike.
A SOLID COMMUNICATIONS STRATEGY WAS NEEEDED THAT COULD INFORM A ROBUST CREATIVE DIRECTION TO MAINTAIN THE TRACTION THAT PREVIOUS CAMPAIGNS HAD ACHIEVED THUS FAR.
We approached the challenge by examining the attitudes and experiences of early testing throughout the broader community. Based on this nuanced understanding, we developed a customer journey and language that was recognisable and relevant to all. How do we promote a message to all gay men that is completely relevant to them but that they may not believe to be so? The idea was to creatively play with the proposition of 'undetectable' to communicate that by treating early you can do exactly that – make HIV undetectable.

High impact, typographic design was used to communicate a complex and multi-layered message for a broad scope of media. Key messaging was spelled out with cheeky copy 'Drop Your Load' to communicate the concept of UVL. Media included outdoor, social/digital media in addition to tactical efforts at events and venues to ensure the message was present through all relevant touch points.
92%
OF HIV-POSITIVE RESPONDENTS NOW STRONGLY AGREE/AGREE THAT HIV TREATMENT OFFERS HEALTH BENEFITS
THE CAMPAIGN IDEA'S EXECUTION WAS CARRIED THROUGH TO CREATIVE PRODUCTION
The outdoor print component, including a booklet called 'Undetectable: What All Gay Men Should Know' produced as an educational resource for gay men, used special material and production processes rendering the 'HIV' typography hard to detect, intentionally challenging the viewer to engage with the message to make the campaign memorable.
88%
of HIV-positive respondents now strongly agree/agree that HIV treatment significantly reduce the risk of passing on HIV
69%
AGREE THEY WERE REMINDED TO TEST MORE OFTEN