Pollination is a global investment and advisory firm with a single purpose: accelerating the transition to a net zero, climate resilient future.

Made up of leaders in finance, investment, technology, law, policy and sustainability, Pollination connects the diverse experience of its global team to create breakthrough ideas and systemic change, while delivering financial returns.

Pollination needed a creative partner to bring the brand to life in time for its global launch in November 2019.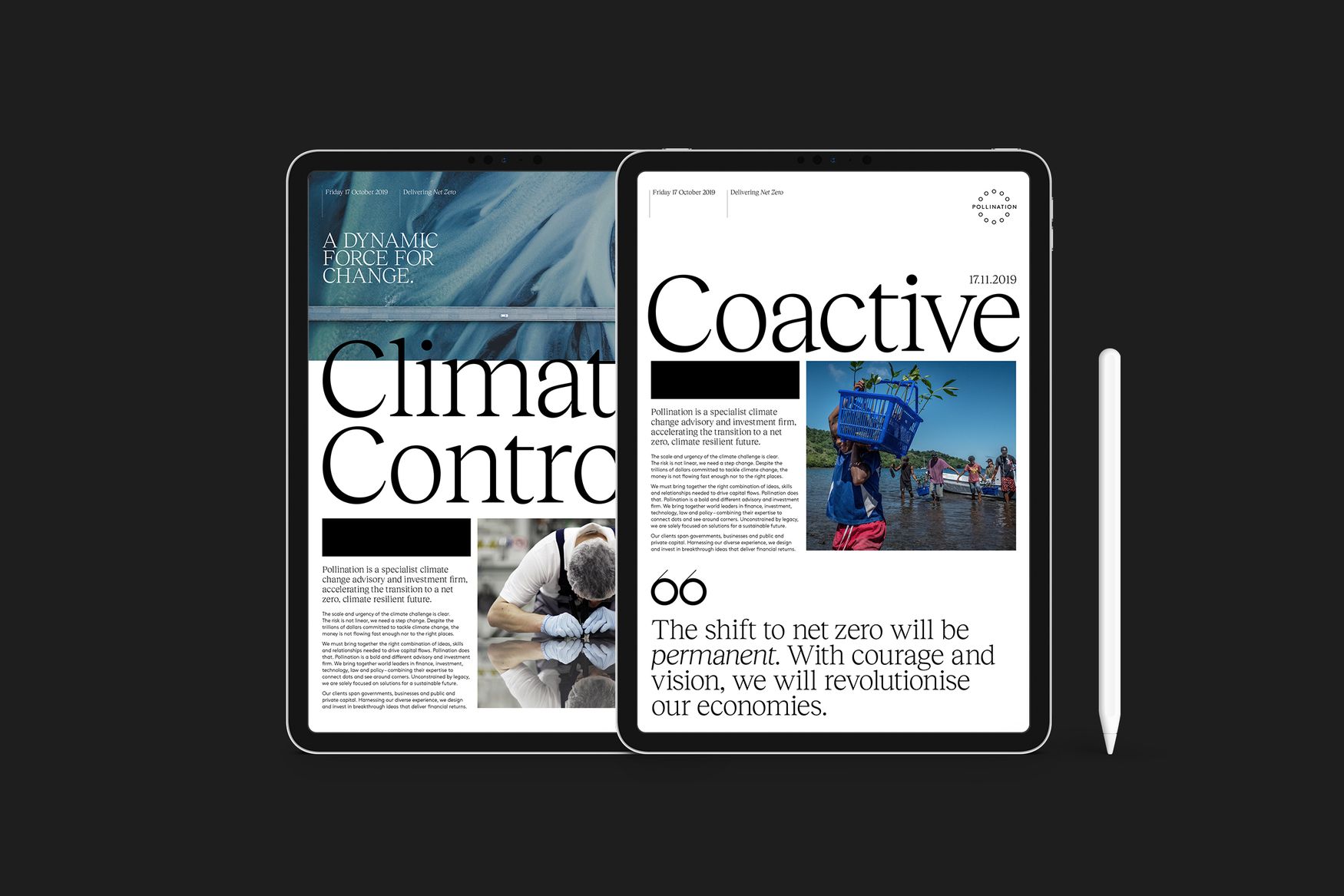 Incisive Imagination
When it comes to climate change, businesses and governments are aware that big solutions are needed now - and they have often set sustainability and emissions reduction targets - but the path to achieve real, systemic change is unclear. Unsure how to move forward, they default to convention, inertia and anxiety.

Pollination combines creative, big picture thinking with on-the-ground action. Its ability to combine law and policy with investment unlocks profound change, much greater than investment alone. As well as investing in systemic change, it also brings together brilliant minds to pollinate bold new ideas, drive capital flows and revolutionise our economies.

With a team that often splits its time between the office and deploying capital in the field, Pollination lives its purpose. It needed an identity that impressed its ability to work both incisively and with imagination.
WORKING TOGETHER
To communicate Pollination's unique way of working, we developed an identity based on working collectively towards a net zero carbon emissions future. The graphic logo tells this story in a number of ways, alluding to time and the importance of continuous collaboration.

A black and white colour palette highlights that climate change is not a grey area, while an intelligent yet dynamic brand voice serves up intellectual rigour and creative thinking in equal measures.

A photography library champions the role Pollination plays at the centre of the climate change story, by taking an editorial, world-view approach to climate change topics. The duality of photography style – close-up details vs. 'bigger picture' images – captures Pollination's ability to interrogate the problem in order to make informed decisions, as well as using its imagination to solve tomorrow's problems with more than today's solutions.
"FROST* DESIGNED A BRAND THAT PUSHES US TO WHERE WE NEED TO BE. THEY LISTENED AND CHALLENGED US, AND THE RESULT IS A DYNAMIC BRAND THAT BREAKS CONVENTIONS AND ENSURES WE STAND APART — NOW AND IN THE FUTURE."

MARTIJN WILDER AM
CO-FOUNDER
Pollination Global
"The Frost* team showed total dedication and depth of understanding from the beginning. Their brand strategy development was exceptional, and they went above and beyond to deliver an identity system we're all proud of, with the added pressure of a tight time frame. It's a true strategic and creative partnership that has set the business up for an exciting future."
Kate Rayson
Marketing & Business Development Director
POLLINATION GLOBAL