A Glowing Beacon for Sydney
City of Sydney
The City of Sydney was keen to improve several civic locations one of which was an old seating pagoda in the centre of Chinatown. When it announced a tender to transform this into an information kiosk, we jumped at the chance.
THIS WAS NOT JUST ANY INFORMATION KIOSK. IT NEEDED TO RESPOND APPROPRIATELY TO ITS LOCATION, HAVE CULTURAL RELEVANCE AND FUNCTION AS A WORK ENVIRONMENT.
The City of Sydney works consistently to instigate change and improvements around the city to benefit the varied use of its public spaces. This small site was no different and required a human-centred, intelligent, creative approach to reinstate it meaningfully back into the city.
THIS SMALL PROJECT WITH BIG AMBITIONS HAS BEEN DESIGNED AS WORKPLACE BY DAY AND ILLUMINATES AS AN ARTWORK BY NIGHT.
Based on a research-driven understanding of how people engage with the location, we created a patterned red lantern by day, which illuminates by night. The rotating semi-circular walls open and close to reveal a red interior, finding inspiration from a painting by the German graphic designer and painter Anton Stankowski. The walls shelve brochures, computer equipment, switchboard and a small fridge – every available space is used. The sliding walls protect staff from westerly sun, allowing cross ventilation and natural day light for sustainability measures.
AS LEAD CONSULTANT, THE PROJECT WAS A COLLABORATION WITH CHINESE ARTISTS AND LOCAL DESIGNERS
Chinese paper artist Pamela Mei-Leng See used hand-cut paper designs to interpret Chinese good-luck proverbs inspired by the art of tea-making along with fish and storks as symbols of prosperity and longevity. At night, the paper is backlit by 4,000 hand-placed energy-efficient LED lights, creating a glowing beacon reminiscent of traditional Chinese illuminated red lanterns.

As lead consultant, we partnered with architects Lacoste + Stevenson, and a sub-consultant team consisting of Lighting, Art & Science, Simpson Design Associates, Philip Chun, Morris Goding and Growth Built who constructed the kiosk.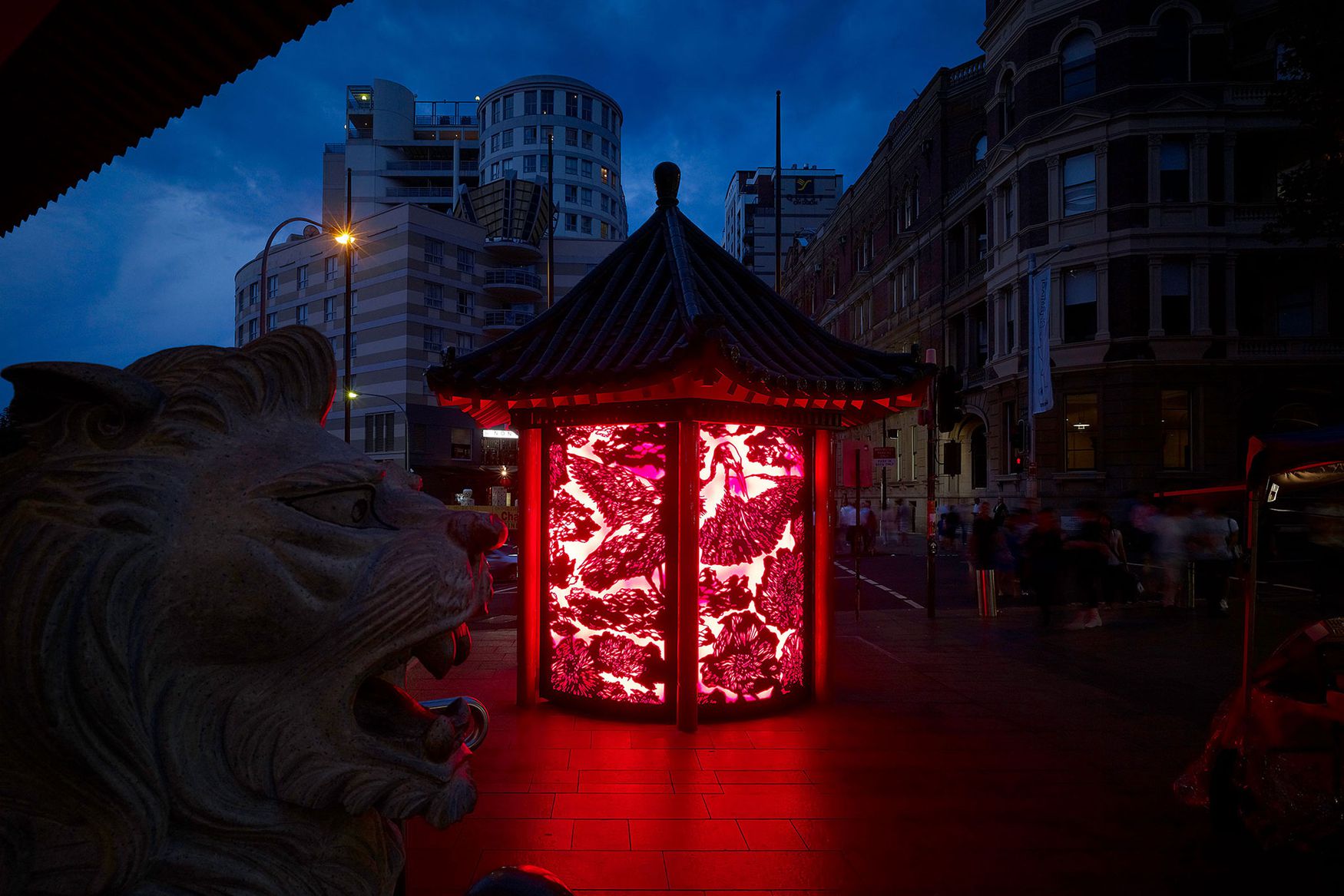 "We are really proud of this project, it's durable, accessible and represents modern Australian Chinese culture. I love seeing how it affects people around it – it's our gift to the city."
VINCE FROST,
CEO/Executive Creative Director, Frost*collective