We are NEST… an experience design team that analyses, creates and optimises technology and human experience across digital, physical, conversation and spatial.

Stories That
Save Lives
Breastscreen NSW
One in eight women in NSW develop breast cancer in their lifetime, and early detection is the key to successful treatment. We all know this, but as women, do we get tested as regularly as we should, and as men, do we encourage our loved ones to make testing a priority?

Our challenge was to make women take notice, and do more than just think about getting tested. We decided we'd talk directly to our audience, and encourage them to take direct action, by talking directly with survivors.

The outcome is a series of four heart-felt and compelling stories that cut to the bone, and aim at increasing testing by BreastScreen NSW for 2017's Breast Cancer Awareness Month, to decrease poor outcomes for women.
"IT'S RARE TO MEET SOMEONE WHO HASN'T BEEN TOUCHED BY BREAST CANCER, SO TO BE ABLE TO CONTRIBUTE TO THE CONVERSATION CREATIVELY, AND HOPEFULLY TO MAKE A DIFFERENCE, IS HUMBLING."
ALEX DALMAU,
DESIGN DIRECTOR,
FROST*DESIGN.
THE TEST
The campaign set out to emphasise the importance of mammograms as part of women's regular health checks. We needed to communicate the facts, stressing the importance of regular mammograms, tap into the emotional sensitivities around the mammogram experience, and prompt action to book a mammogram. The campaign's over-arching message is that by combining a self-examination with a yearly scan to detect breast cancer early, the chances of successful treatment are increased.

As mammograms can pick up breast cancers before they can be seen or felt, BreastScreen Australia offers free mammograms every two years to women over 40 years old.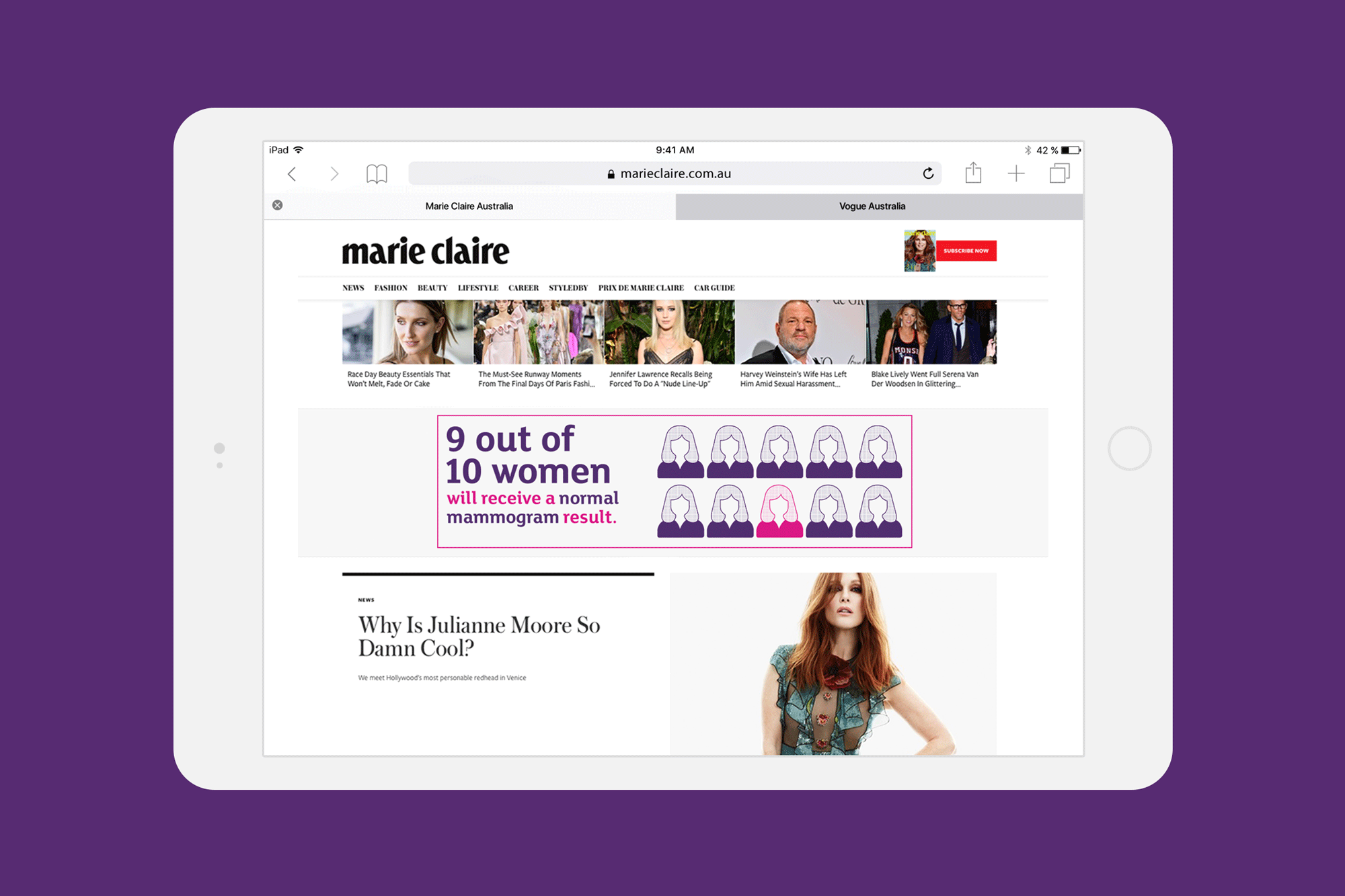 compelling real-life stories
Working collaboratively with the client we enlisted the talents of producer Rachel Knepfer and Director/Photographer Hugh Stewart to create four video case studies of breast cancer survivors. Each woman's unique screening journey is captured as an emotional and heroic story, they're highly relatable accounts and resonate with a diverse socio-cultural population. The deeply personal experiences speak directly to the camera intensifying the dialogue with the audience.

Nest (part of Frost*collective) was tasked with refreshing and updating the website to enhance user experience. A suite of engaging content including videos, infographics and icons were created for use across the website making the screening information more digestible for all audiences.



"The women we interviewed are remarkable and we have no doubt that their stories will make people think differently about the life-saving impact of regular check-ups."
Ant Donovan,
Group Creative Director,
FROST*DESIGN.