We are NEST… an experience design team that analyses, creates and optimises technology and human experience across digital, physical, conversation and spatial.

Design for a Better World
Good Design Australia
On the back of the Good Design Awards in May, we're feeling extremely proud of the beautiful new brand we've created for Good Design Australia. On the eve of the awards we felt excited and humbled. Excited about seeing the best in design and innovation take to the stage at the Sydney Opera House, and humbled to see our new identity for the brand come to life in such an iconic space.

It's no stretch for us to be enthusiastic about working to help promote an organisation whose values align so beautifully with ours: "We believe in the transformative power of design-led innovation to improve our quality of life, shape a better Australia and to create a more sustainable and prosperous world."

Our work for Good Design Australia, the international design promotion organisation responsible for the Good Design Awards, and other design events, covers a vast range of touch points. Everything from a new brand identity, website, year book, exhibition and animations to introduce each of the categories at the awards have been created.
60 years of good
Our brand and identity refresh, and campaign for Good Design Australia's 60th year, are focused on the impact good design has. We took the business' objective – "Good design for a better Australia and a better world" – and developed this into a highly recognisable brand that is now a symbol for what good design is.

To do this, we conceived the term, '60 years of good', refreshed the original identity making the tick more prominent and a symbol of good, and introduced a modern colour palette. The tick and angle of the tick form key elements of the identity, with products being photographed at the angle of the tick, for example.
Sustainably designed trophy
Made from recycled ocean plastic, we conceived the new sustainably designed trophy which was then refined and produced by The Evolve Group. Good Design now sits alongside other global design awards proudly.
Discovering good design
Tasked with filming the judging process for the Good Design Awards, we created a video to be played at the awards themselves. We approached the task from a human-centred angle, consciously steering away from a more typical corporate feel.

This was a rare opportunity to work with a group of celebrated design experts from all sectors of design from around the globe, so we spoke to them one-on-one. We wanted to discover what they each believe is the true meaning of good design, what sets it apart from bad design, and what we could be doing to improve design globally.

The responses left us with food for thought and an appetite for what's to come.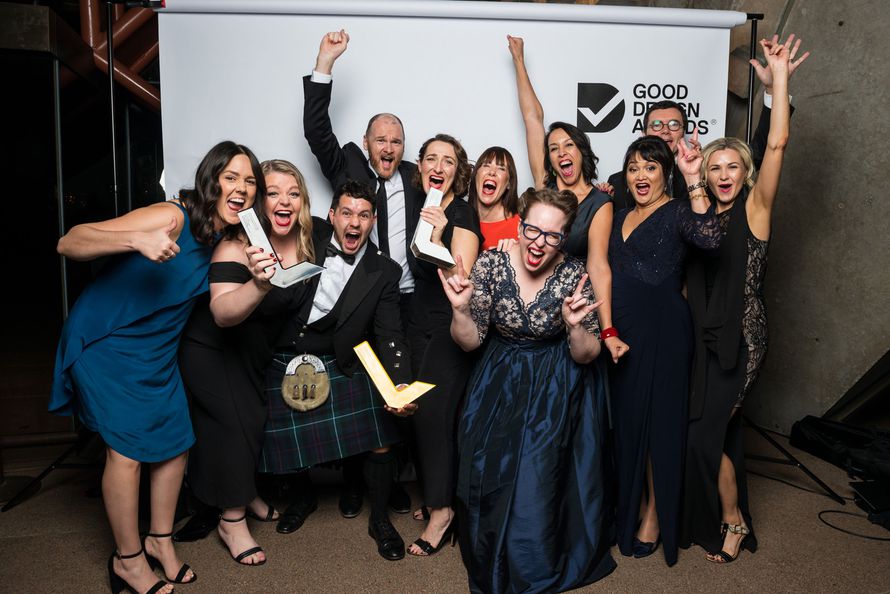 Online
Nest, part of Frost*collective, and Frost* collaborated closely to ensure the new brand structure has a strong presence online. The Good Design tick is strongly incorporated into the design, and the 45-degree angle has been used as both a visual feature as well as a divider.

The Good Design Index is a catalogue of every award winner since the awards began in 2014 which lives on the site. The new design makes use of the 45-degree hero text new colour palette to help ensure the large volume of content is a manageable and clean user experience.